HEMA MINSK 2019: Interview with the UK – Ireland Team
---
HEMA at the European Games in Minsk
A great event is taking place in Minsk, the capital of Belarus: Minsk will host the second running of the European Games which, for the first time in the cultural programme, will include European Martial Arts.
The European Games are an international multi-sport competition for European athletes, which are held every four years under the direction of the European Olympic Committee. In these European Games, competitions will be held in fifteen sports, eight of which will qualify for the 2020 Tokyo Olympic Games.
European Martial Arts will be celebrated with a beautiful exhibition, an invitational gala tournament, and two conferences that will offer the visitor of the European Games insights into the multifaceted aspects of European martial arts heritage.
This is a great step forward in the efforts of the HEMA community to bring their sports to a wider audience, and it is largely thanks to a passionate organizing committee lead by Roberto Gotti, Daniel Jacquet and Iason-Eleftherios Tzouriadis.
But what is HEMA?
For all those who haven't heard about it, HEMA is an acronym for Historical European Martial Arts and, as it clearly express, it's related to the whole range of disciplines which originated in the historical martial tradition of combat. Armoured or unarmoured, with swords, polearms, daggers or hand-to-hand: the techniques are taken from the European combat manuals of the ancient masters-at-arms, and are reconstructed in the present, recovering their mechanics and purpose, leading to a competitive system.
In fact, during the European Games, along with the exhibition and the conferences, many athletes from all over the world have been selected to compete, demonstrating their skills and their art.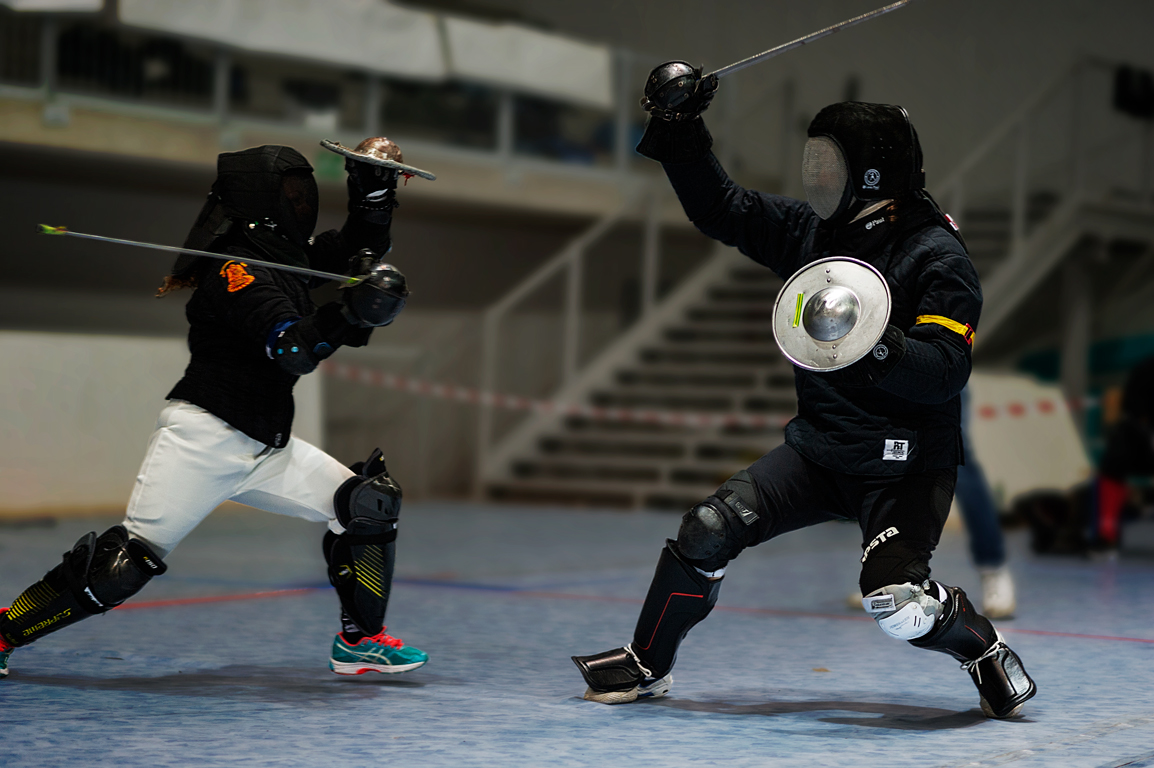 Sponsoring the UK-Ireland Team
When we of Malleus Martialis were asked to sponsor the UK and Ireland Team by the British Instructor Jay Maxwell, we were delighted to accept.
So, we sincerely thank Jay Maxwell from Tempus Fugitives Club and Rory Merrel-Wyre from The Renaissance Sword Club for involving us.
They will compete in the Sword & Buckler Tournament along with Alyx Austin from London Historical Fencing Club so what a better way to celebrate this great venture than asking them for an interview?
So, let's begin!
---
Hi guys and girls, and thank you for this interview!
1. Why did you choose to work with us?
Jay: I think we first met some years back at the big SaaM tournament in Faenza. I picked up one of your swords and promptly spent the next 20 minutes prancing up and down the hall enthusiastically waving it about and thrusting at imaginary opponents – less than a year later we had you over in the UK, sponsoring The English Sidesword Open and providing the blades for the tournaments. I have never regretted working with you or using your blades, and they remain amongst the best on the market.
Rory: The first time we met was in Turin 2 years ago and I picked up one of your Sideswords at the request of one of my friends. I was impressed with the balance and feel of the weapon. Shortly afterwards I ordered and received my first Malleus and haven't used anything else since. Interesting note, an Austrian friend of mine made an accurate replica of a training weapon of the period and they felt almost identical.
2. Why is sponsorship so important to athletes?
Jay: When I was younger, in my early twenties, and had first discovered HEMA my energy was boundless. I would train for hours every day and read everything I could get my hands on (which was much harder to find back then). Events were few and far between, so I would save to go to at least one big event a year, like SWASH or Dijon. Today there are more events than weekends in the year, organisers are competing for participants, and young people still face the same problems. Equipment is expensive, travel is expensive, training, books, replacements and upgrades, it stacks up. Add in the cost of gym, proper nutrition and the need to go to college and money can be really tight! I have young students in my school right now who show tremendous promise and are willing to put the work in but cannot afford proper equipment or to travel and learn from the amazing instructors that attend and teach workshops at the larger international events. If you were to consider the current tournament scene you have an even more pronounced issue – young people cannot afford the necessary equipment or travel to participate in these tournaments, and therefore the tournaments are dominated by people with the necessary disposable income to travel around the world on a monthly basis. Sponsorship takes some of the cost off an athletes back, and basing sponsorship on achievement – such as a grant for those who train hard and show the greatest improvement to get themselves to a weekend workshop with an instructor in another country – or top of the range equipment for a competitive fencer, can make the difference between the next big name and someone who gives up on a hobby they just cannot afford or see a chance of advancement.
Rory: Sponsorship is a symbiotic relationship, the sponsor gets great advertising of their weapons and the Athlete is able to promote and reach a wider than normal audience to promote their discipline.
Alyx: Many sports are not that cheap, especially Historic European Martial Arts. When you have excellent fighters from across the globe, that would not otherwise have the disposable income to match their passion Sponsorship comes into play. Through the generosity of the many incredible sponsors, It gives athletes who would otherwise not be able to participate to the fullest extent a chance to be recognised. In turn, it gives great advertising for the products our sponsors create, as you can see them being used in practice! This attract attention and hopefully drive orders, so that more effort can be put into producing better and better equipment!
3. What is the big deal with the European Games?
Jay: The European Games represent the most publicly visible performance of our art to date. It is part of a cultural exchange programme demonstrating not just the systems we practice, but also the bladesmiths art, displays of the weapons and books we studied to get where we are and the setting in which these complex systems of swordsmanship developed. It culminates in a competition between the world's foremost technical fencers, selected to accurately represent the systems they study as realistically as possible. This was the dream behind Minsk and I truly hope that is what we will achieve.
Rory: It could be very good for Hema to get a wider recognition BUT we most be very careful it does not descend into a "Sport Fencing" event, either giving a hit and not defending or taking a hit to give a superior hit must penalised heavily in my opinion. The fundamental priority must be defence.
Alyx: The European Games is a new institution, but one that is growing. It's an honour to be part of the cultural programme, with hopes that it could attract further attention to our passion! I'm pleased to see recognition of HEMA within an international sporting context!
4. How long ago did you start in Hema and how did you get into it?
Jay: I started fencing when I was in school and continued at college, but like every young person what I truly wanted was to be a swashbuckler, a sword-fighter. I was in my early twenties when I first discovered HEMA, as a result of a conversation with someone in a pub, which is now almost twenty years ago. I would like to say that I never looked back, but something that I found HEMA truly lacked was a grasp of how a proper curriculum is developed for an aspiring athlete. It is still common today to see instruction taking the form of a set of routines straight from a book rather than a progression through from previous classes, based on established principles, and summarising on existing knowledge. In this respect, HEMA has a lot to learn from the hundreds of years of development invested into training methodologies by modern fencing institutions.
Rory: I started in 2012 so 8 years ago primarily with Sword and Buckler. I was luck to have a great mentor in Jason Winter and then about a year later I took up Rapier and Dagger and, again, extremely lucky to have Rob Runacres as a mentor who is the lead instructor at my club The Renaissance Sword Club. I owe a great deal to these guys. My daughter started sword lessons after seeing Game of Thrones and I tagged along one day. I very nearly didn't go back for the second lesson but I'm glad I did.
Alyx: I started 3 years ago at the London Longsword Academy, doing sword and buckler with the lovely David Rawlings. I took a quick break and about a year ago joined the London Historic Fencing Club, run by my teammate Jamie MacIver. I started HEMA because I wanted to play with swords. I did some Olympic fencing as a child, but I always wanted to do more historical forms of fencing, and HEMA offers exactly that. I did a single HEMA lesson as a teenager and always wanted to get back into it.
5. Has HEMA always been competitive?
Jay: The greatest competition was once with yourself – you wanted to understand 'why' things were done in a certain way, and you wanted to be the best at making it work – as much time was spent in debating as in fighting. Today, being the best seems to be based on medals or rankings rather than understanding, which is a shame. Tournaments have their place and are very necessary to pressure test your understanding of technique against an uncooperative opponent, and this is something you cannot get out of sparring, but winning a tournament with a single technique that you have trained over and over and over is not going to allow you to improve any further – it does not prove any great technical ability and sets a dead end to your development. This will of course sound silly to some, and in a way I agree and welcome those with a mind to win at all costs. If we cannot defeat someone using a limited repertoire then that is our failing and we must train harder; it is showing us something that we need to improve in ourselves.
Rory: Yes, it's in our nature to want to test ourselves but people should not think that winning medals necessarily makes you a good fencer.
Alyx: I wouldn't know, as a relative newcomer at 3 years, but as far as I have been told it hasn't been. I certainly did not start as a competitive fencer, I joined for the art and the beauty. I am however really pleased that there is now a strong competitive scene for my passion, and that we are able to compete with others from all around the world with different outlooks.
6. What do you look for in a tournament weapon?
Jay: The same thing I would look for in a live weapon. Much has been invested by manufacturers in recent years into trying to make lighter, longer sporting HEMA blades, which in turn make it harder to control heavier blades or shorter blades, which now seem to be coming into vogue. I like to train with different lengths and weights to force myself to fight differently, but will always choose a blade with better balance over one that is lighter or longer.
Rory: Balance, it needs to "want" to cut and thrust and be strong. The Malleus Sidesword has all these qualities.
Alyx: Primarily safety! In a tournament context it is both mine and my opponent's responsibility to keep each other safe. My first instinct in looking for a tournament weapon is that it can be used safely for the other person in the bout, and won't have a tendency injure them or myself. This can be dynamics of the sword to reduce the risk of concussions, the quality of the heat treat, to prevent snappings, and breakage that could result in injuries, through to the quality of materials used, making sure that burrs and sharp edges can be prevented as much as possible.
7. In what ways has the HEMA community changed since you started?
Jay: Everything is now freely available!! Social media allows instant access to a vast and (usually) well informed community. The crazies with their ancient templar mystery schools or no-touch-martial-arts are quickly shot down in flames, and resources such as translated texts or videos by well known instructors can be found at the click of a button. Communication and knowledge has never been so easy to come by, you just have to google it. On the other hand, the sport side of HEMA has developed to the point where it has started becoming something separate from the martial art, which I suppose we all knew would happen. Things such as ratings systems and professional televising of tournaments have hastened this, and blows that I would discount as ineffectual are now scored regardless of mechanics. Obviously competitors who want to win glory in the arena will optimise their movements and their weapons to take advantage of this.
Rory: There are many more events and clubs which is due mainly to Social Media becoming so massive.
Alyx: Since I started the HEMA community has become much more international. I'm amazed to be part of a wider community of us nutters who like to play with swords. I believe it fosters friendships with people I'd never have thought of, and brings new ideas into the fold.
8. What would I like to say to the new HEMA generation?
Jay: Don't overthink. You joined a school to have fun, and that is precisely what you should be concentrating on. Over time you will begin to understand your preferences and what keeps you locked into our community, and that should become your focus. Whether you are an academic, a sportsman, a martial artist, or a hundred other things, HEMA has a place for you.
Rory: "Who sow in tear shall reap in joy" You get out what you put in, be consistent, be patient and train hard or go home!!
Alyx: Try! Don't feel like just because you don't know it all, doesn't mean that you can't do it! Just because there isn't a group in your area, doesn't mean you can't start one. Start a study group, use the resources online, go out there, have fun, build your communities!
---
Thank you, Jay, Rory & Alyx for giving us the opportunity to support you and to document this great occasion for HEMA to show what a wonderful heritage we have the duty to preserve and share.
Draw your swords and make it count in Minsk!